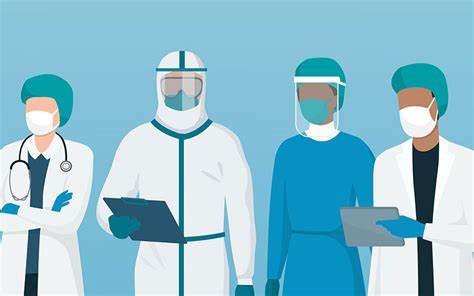 ​
​During the current Covid-19 pandemic, PPE has become a vital part of the daily life for healthcare workers. From face masks to gowns, gloves and goggles, wearing this daily can have have a major impact on your skin health.
​
As we all may have seen there has been many photographs of different individuals wearing the PPE on social media and the internet which shows the effects wearing this equipment can have on the skin. To help battle and keep your skin at its best health, here is a few tips to consider:
​
​
​
​Skin care Routines - whether you have dry, combination or oily skin - there is many options available for all skin types to keep it in tip top condition. If you are wearing PPE for long periods of time, it is so important to keep your skin clean and well moisturised. Ensure to wash your face with a gentle cleanser and warm water to allow your pores to open and be cleansed, pat your skin dry gently (don't rub!) and follow this with a moisturiser and allow this to sink into your skin. Having a simple yet effective routine, will help clear away and dirt or oils on your skin and with any abrasions or sore areas of your face, this then allows your skin to heal from the long shifts.
​
Your mask and goggles - with your PPE, please ensure it is correctly fitted and not to loose or too tight - if the equipment is to get too uncomfortable, wet or soiled, step to a safe area an change this. If you should need to clean your goggles, allow the disinfectant/wipes to dry before allowing them to touch your skin. Public Health England also do advise that healthcare workers whom wear PPE only do so for two hours and then retreat to a safe area for a break to allow your skin to dry and recover. It is important to try and do this, as well with your goggles/face shields and masks as it also allows your blood flow to regulate and no long term skin abrasions or damage. Do keep an eye on your skin throughout your day for any signs of redness or sores.
​
It is also reported that wearing a skin barrier cream before wearing your PPE is a good protective measure to help care for your skin whilst carrying out your duties as this lines and protects the skin even more if you know you will be wearing the PPE for a long while.
​
Keep Hydrated - as we all may be aware, our bodies are made up of 60% to 70% water and it is extremely important to ensure you are kept fully hydrated before, during and after your shift. this is not only good for your skin, but your body, mind and focus. this can also help with any sluggish feelings. it is recommended to drink 2 litres of water daily. Remember, Dry dehydrated skin is more likely to become irritated and damaged - keep yourself topped up.
​
Balanced Diet - as always it is important to eat a healthy, balanced diet to ensure your body, mind and skin is getting all of the minerals and vitamins it needs to be able to protect, replenish and restore itself.
​
Rest - It is so important to try to get your full 8 hours of sleep - this allows our bodies to rest and restore - this includes your body, mind and skin to be able to renew and heal.
​
Make Up - You may wish to stick to your usual daily makeup routine, however during this time it is advised to steer clear of any facial beauty products as these can clog up your pores on top of the other oil and sweat which can be produced with PPE - should you not feel comfortable to go completely bare face, it is recommended to stick with simple facial products and wear makeup around your eyes.
​
Your body is as important -Ensure to keep your body as moisturised and hydrated as you would your face, with the Cleansing Gels, washing of hands and constant PPE wearing - it is ensure to do this so your skin does not get dry, sore and flaky.
​
With everything we've been through in the past year, there's never been a better time to show our skin some extra love and protect it from further irritations. Take the Cleanse, protect and restore approach - look after your health and body.