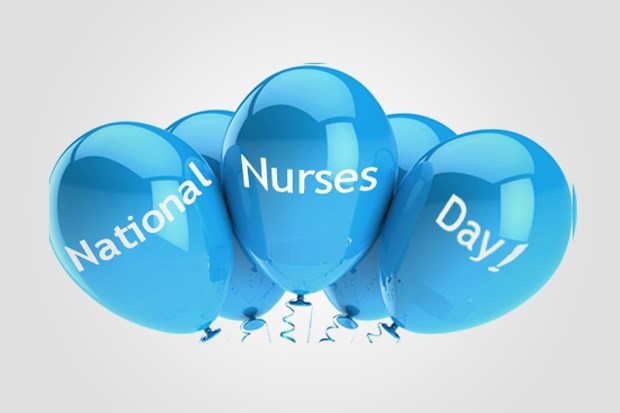 ​It's that time of the year again, where we mark International Nurses Day and for good reason. Our amazing nurses have not only nursed the nation back to good Mental and physical health under "normal" circumstances, but they have taken up the frontline during an unprecedented pandemic, risked infection, all in the name of saving lives. So today, we salute them and thank them for their noble sacrifice and dedication to our country.
Each year 'International nurses day' falls on 12th May as this day is Florence Nightingales Birthday.
A service is held in Westminster Abbey in London annually to mark this special day. During the Service, a symbolic lamp is taken from the Nurses' Chapel in the Abbey and handed from one nurse to another, thence to the Dean, who places it on the High Altar. This signifies the passing of knowledge from one nurse to another. At St Margaret's Church at
East Wellow
,
Hampshire
, where Florence Nightingale is buried, a service is also held on the Sunday after her birthday.
​
As we celebrate the contribution of our nurses today, it is important that we should reflect upon one of the most challenging periods in recent history for our profession across the globe. The Covid-19 pandemic has seen nurses at the forefront in the fight against the disease to preserve life and enabling recoveries. We should and will recognise the daily sacrifices, turmoil, and stress that these nurses have endured during such a challenging year despite already working in a tiresome sector and never forgetting the loss of many individuals that have lost their lives in taking on this fight in a bid to keep others alive, healed and safely returned to their families and loved ones.
In addition to nurses working within community and hospital settings we also need to recognise that nurses also working elsewhere have continued to practise during the pandemic using technology to help advance their communications with their service users, patients and colleagues.
In the UK, nurses from all departments have also have responded rapidly with additional training and supporting the massive project being the vaccination programme – as we enter May 2021 the positive impacts of the vaccine rollout (despite the hinderances along the way) is taking us into brighter days with a greater and positive sense of normality when we can spend more time with and once again hug loved ones and enjoy activities that we had perhaps taken for granted that we recognised during the restrictions and national lockdowns. There may still be a way to go but with the dedication of our NHS and the support of the public, we will get there, together.
​
During this pandemic, another major factor which cannot me missed and has been felt by our nurses and NHS is the mental health Deterioration of the UK during the Restrictions and Lockdowns. In a survey of 6,305 people by BACP and YouGov,,it was found that of the 67% who said they had experienced any kind of mental health issue in the last five years, 85% said their mental health had been negatively impacted by the coronavirus pandemic.
Mental Health during the last year is now more than ever a serious factor which many of our nurses and healthcare professionals are conscious of and are continuing to work tirelessly to help treat and nurture.
​
As we mark International Nurses' Day, you all should be rightly proud and loudly celebrate what we do and acknowledge you and your fellow nursing colleagues everywhere, reflecting on what each nurse has contributed during the pandemic but also what they do each day across the globe in making a real difference for positive health and wellbeing.
According to the National Department of Health, the International Nurses Day 2021 assumes great significance to express our deep gratitude for nurses and health workers around the world. The theme for the 2021 is Nurses: A Voice to Lead – A vision for future healthcare.
​
Thankyou again to our incredible nurses